Clinical trials can be lifesaving for people living with breast cancer. Yet, for many, clinical trials can be the subject of criticism, skepticism, and even fear. Social media gives both patients and healthcare professionals a virtual seat at the table to share experiences and engage in conversations on these issues.
If you haven't already, we encourage you to check out the amazing advocates and educators below. Join us in learning, listening, and amplifying more this #BreastCancerAwarenessMonth.
Here's a look at who is talking—and what they've been saying—about breast cancer and clinical trials in 2020.
Patient Advocates
At Sommer Consulting, we know that it's so important to always be listening to patients. If you want to listen to patients as well, here are some great folks to start following. These advocates are active in the #bcsm (that's breast cancer social media, cofounded by patient advocate @stales) space. They speak out for themselves and their communities, sharing the patient perspective on clinical trials – upsides, downsides, and changes needed.
Top Patient Authors by Visibility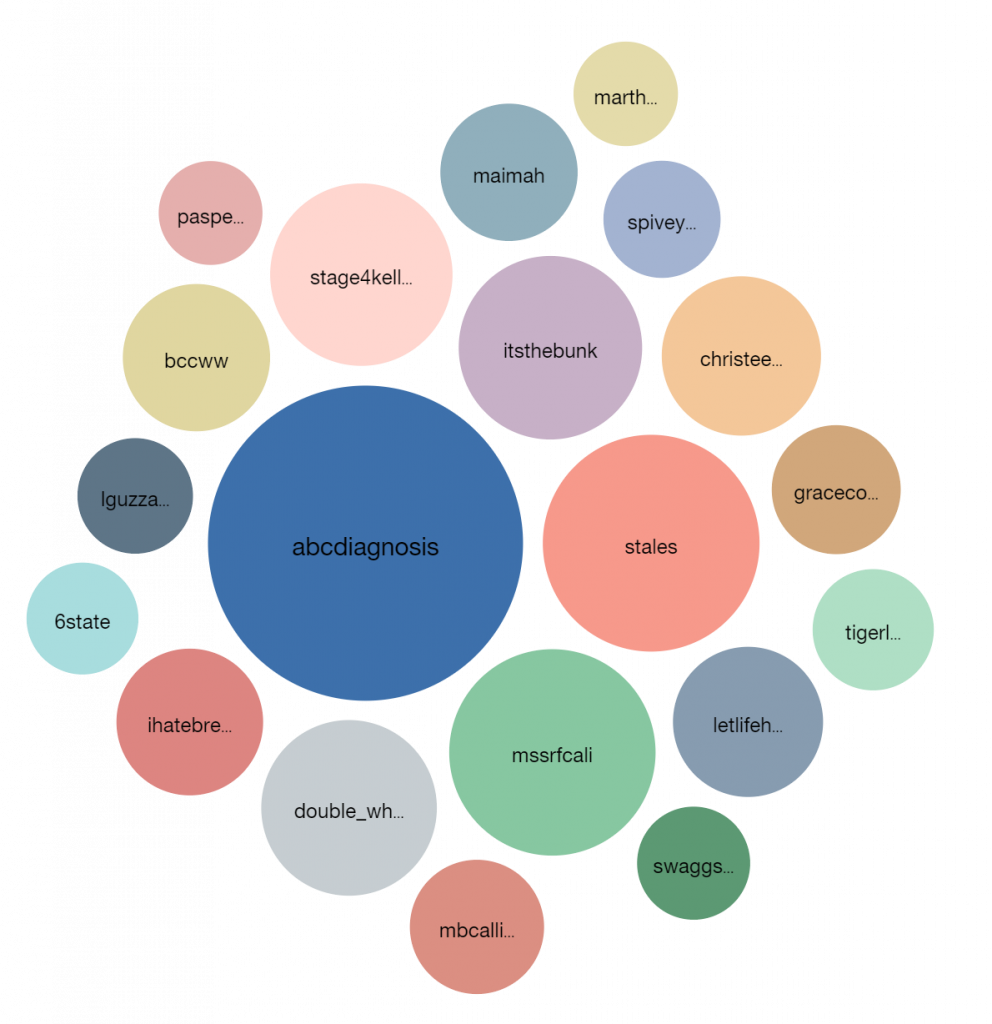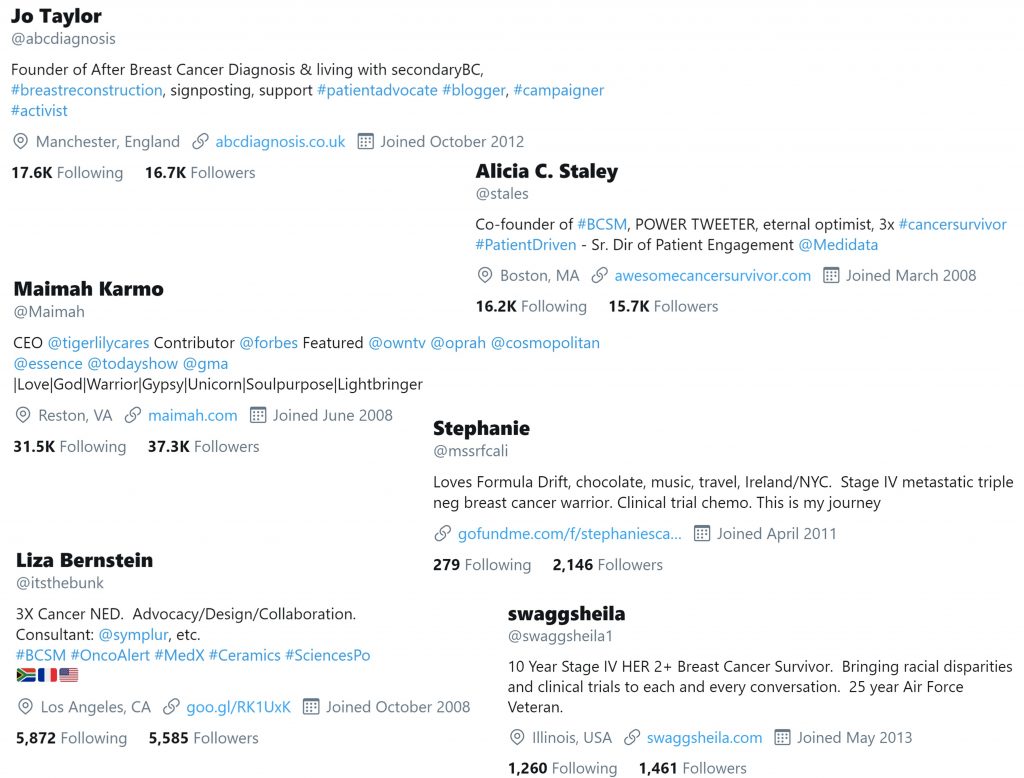 Top Patient Advocacy Organizations by Visibility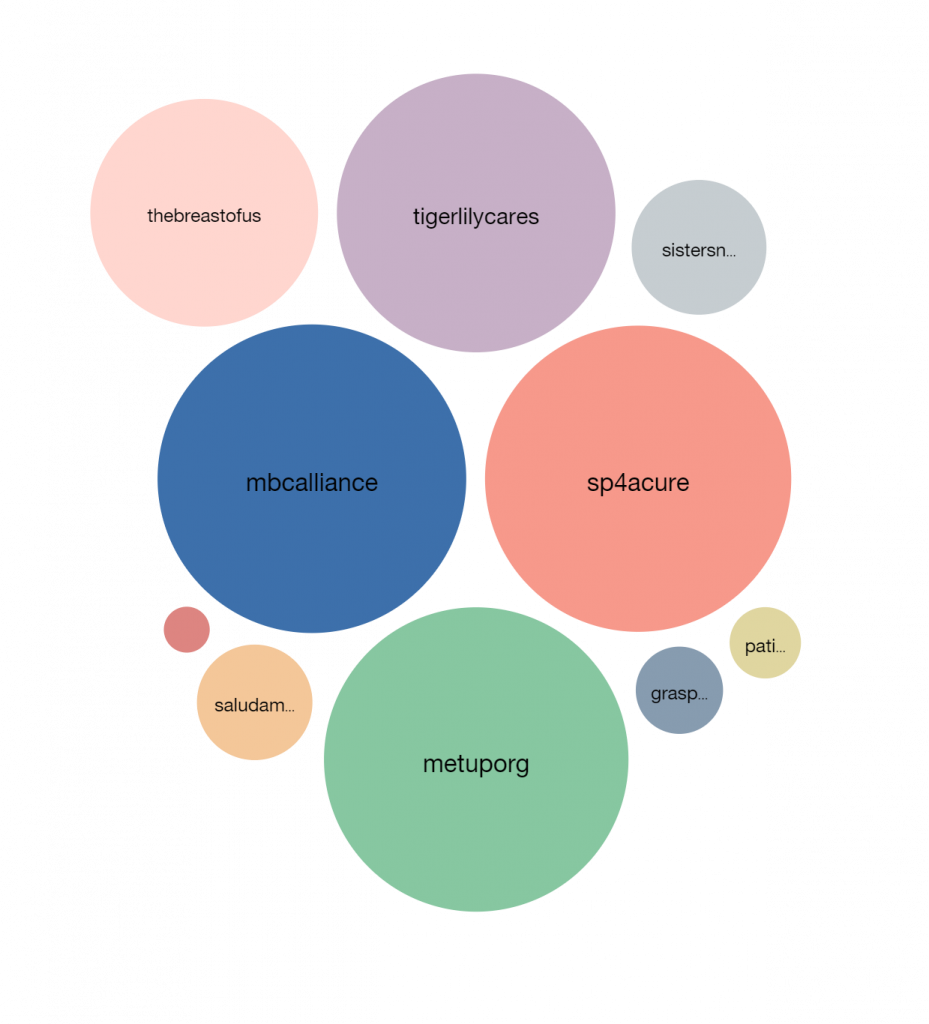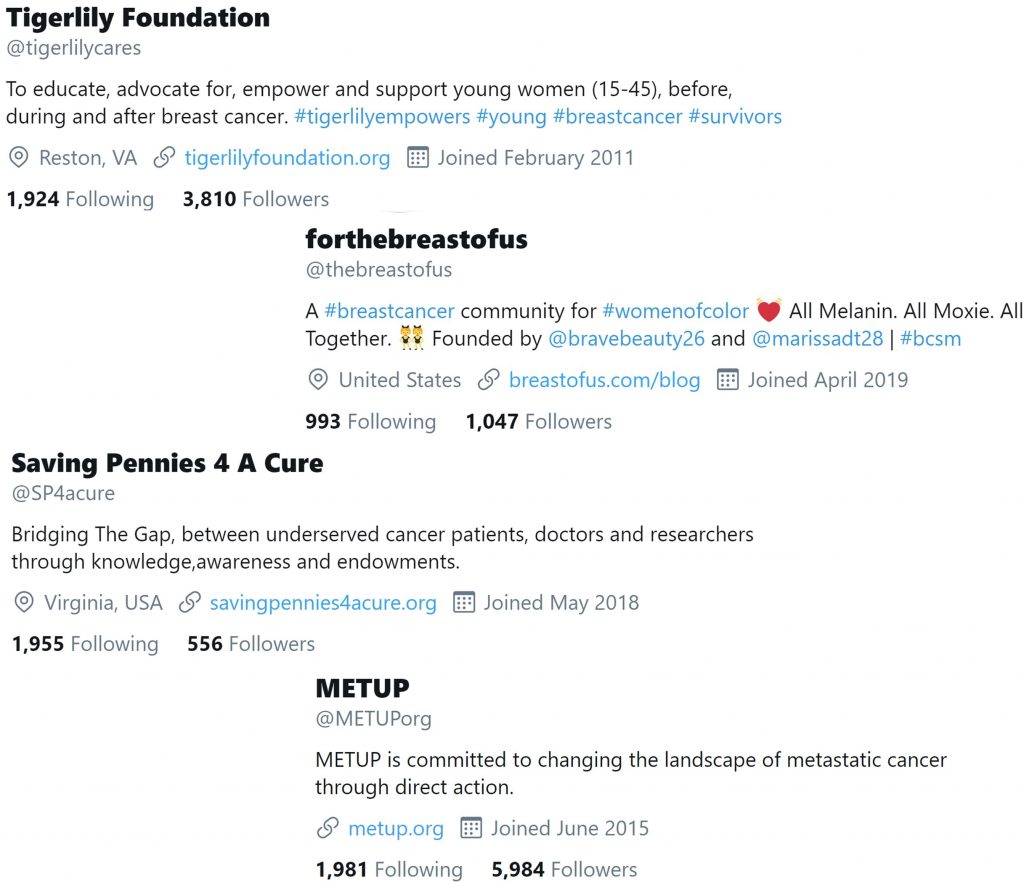 Sample Top Tweets by Patients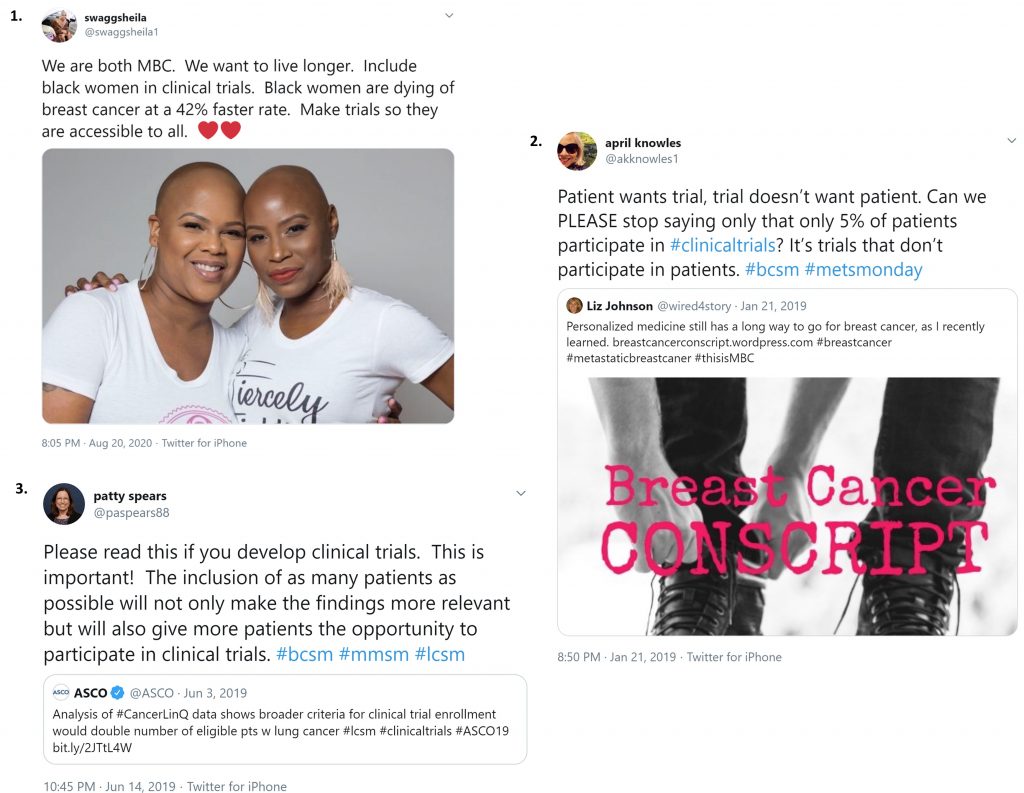 Terms Most Frequently Used by Patients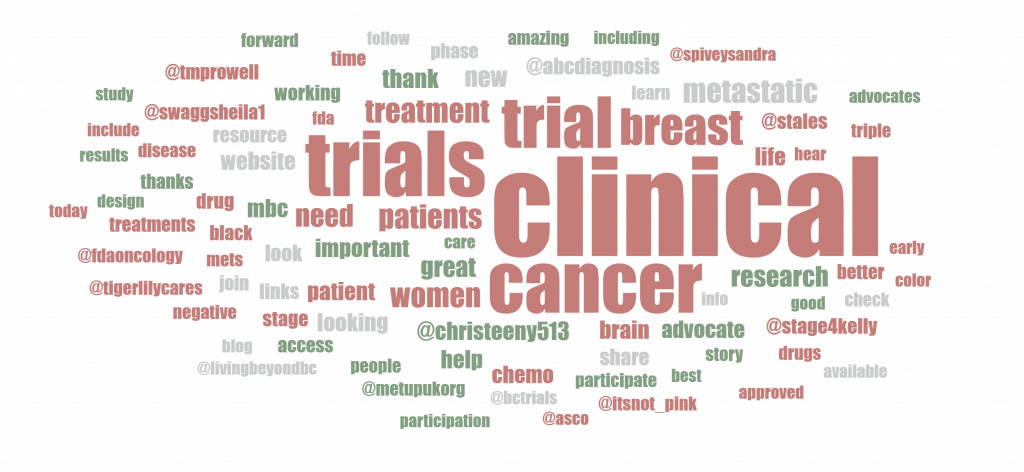 Healthcare Professionals
Healthcare professionals often have a wide reach via social media and professional networks — they can often get their voices into the discourse, because when HCPs talk, people tend to pay attention. That's why it's so great when HCPs use their platforms to amplify the voices of those who may not be heard.
The physicians below provide great examples of how to advocate for patients, not only in designing clinical trials but in all of healthcare. Check them out!
Top HCP Authors by Visibility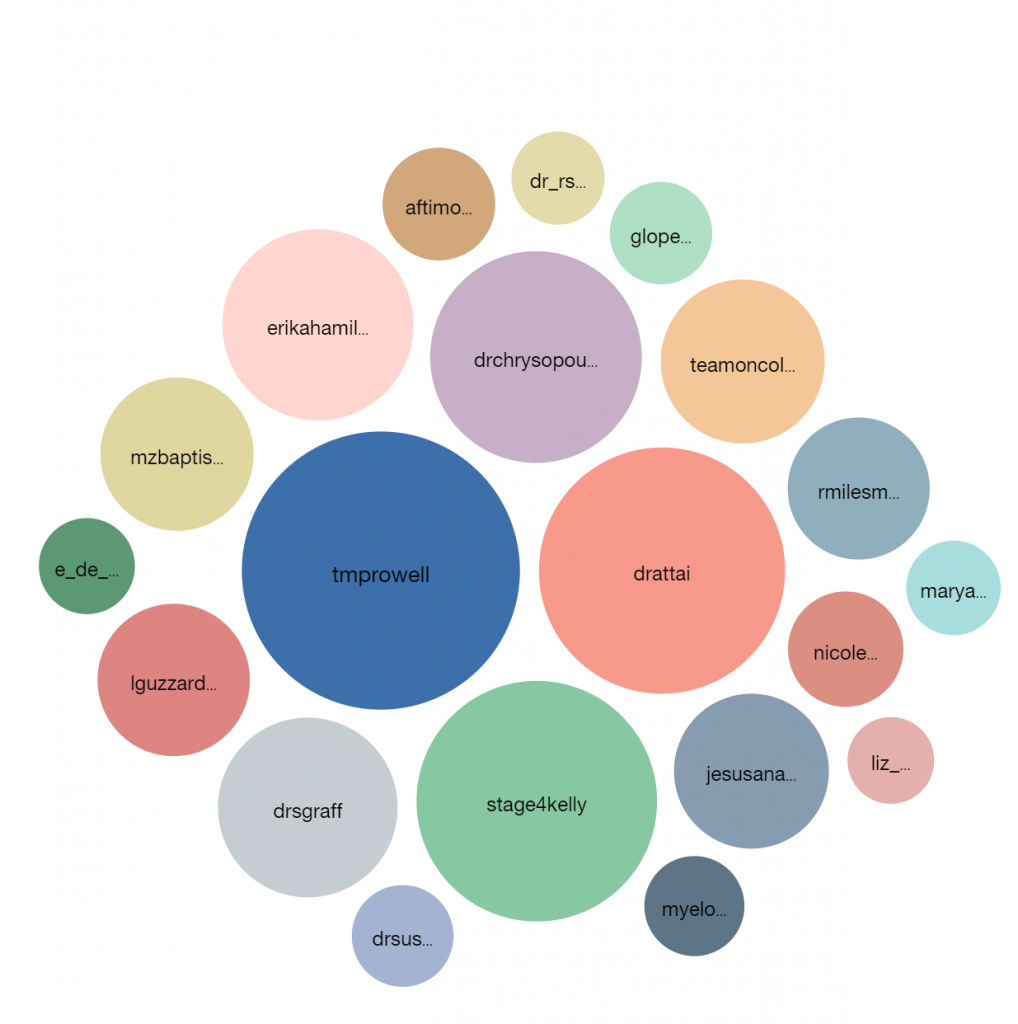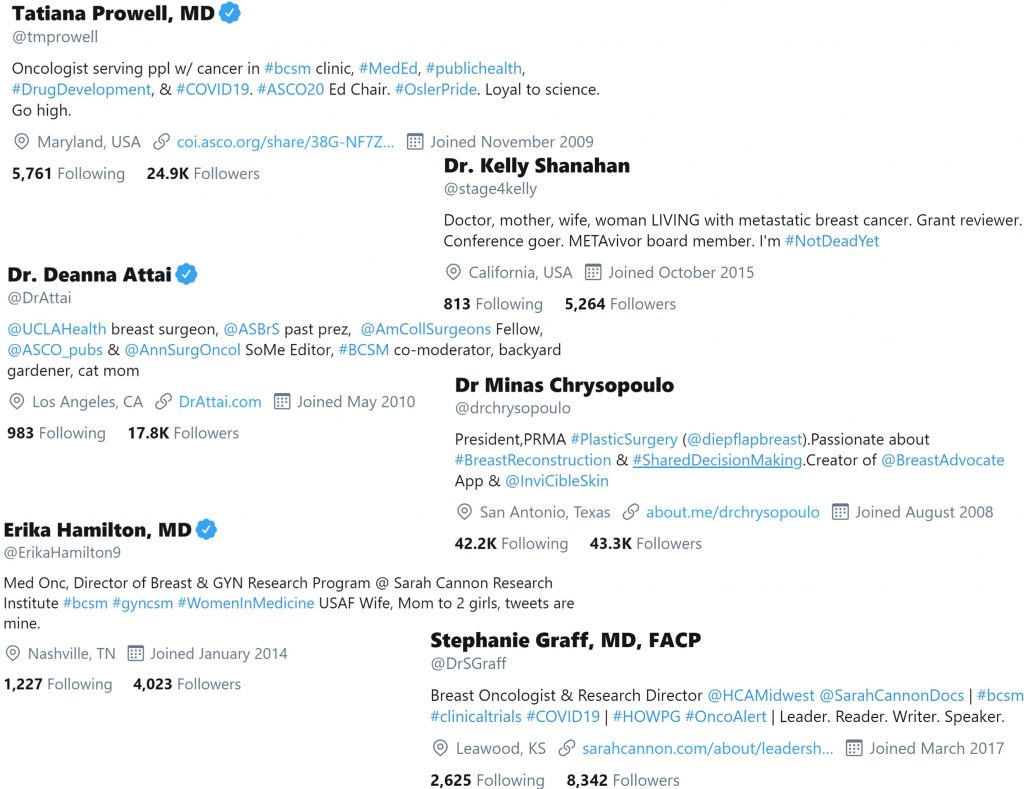 Sample Top Tweets by HCPs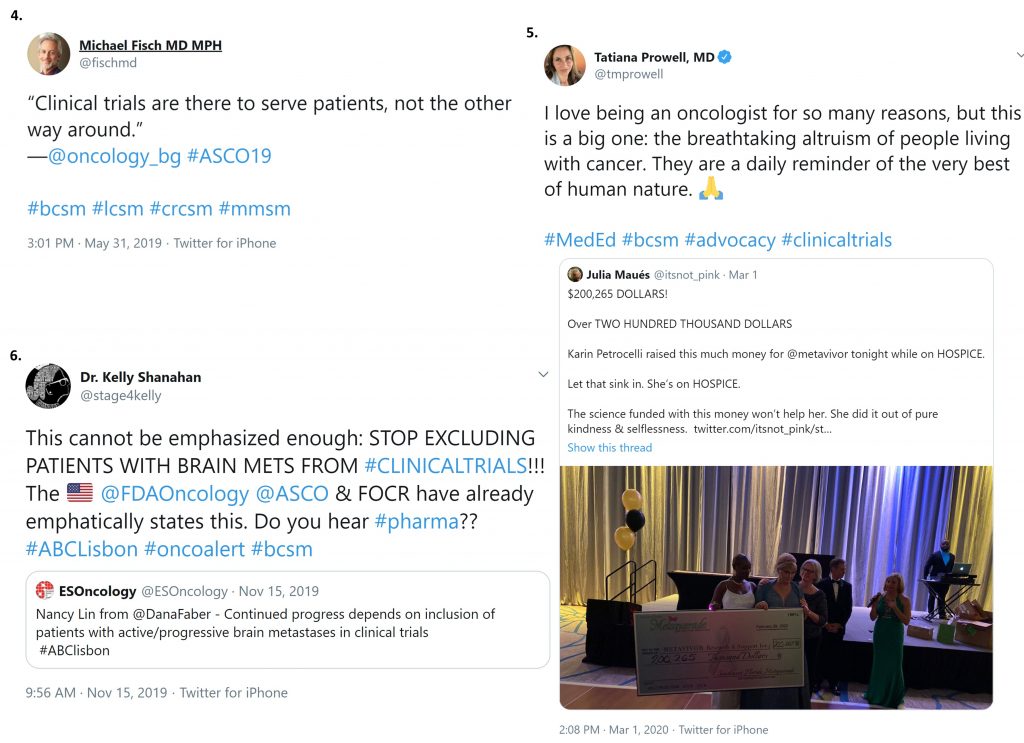 Terms Most Frequently Used by HCPs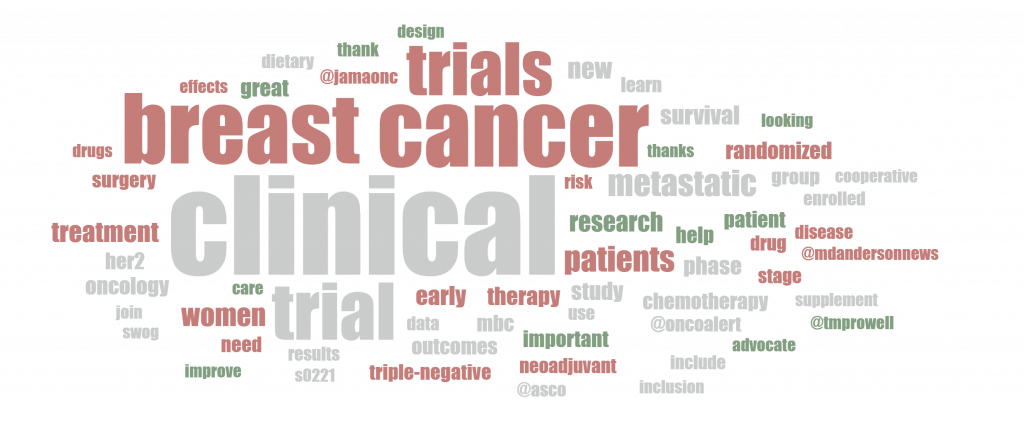 What next?
Throughout #BreastCancerAwarenessMonth, we'll keep watching this space to see what new voices and topics come to the surface. We'll be amplifying both familiar and fresh voices to learn and engage with the issues that matter most to those affected by breast cancer. Join us by following @SommerConsults on Twitter.
---
Kaitlin Mikatarian
Digital Linguist
Sommer Consulting

---
Sommer Consulting is a boutique consulting firm specializing in custom primary qualitative research, with a strong background in women's healthcare, clinical trials, and health literacy work. Our expert linguistic team specializes in analyzing online discourse to better understand how people use social media to educate, advocate, and share healthcare experiences.
To conduct this research, our team of digital linguists synthesized multiple analytics tools, developed custom lexicons, and layered on qualitative analysis to zero in on what breast cancer patients and HCPs are saying about clinical trials.
Want a deeper dive into this topic? Want to investigate a different cancer type? Want to simply learn more about our tools and methodology? Please reach out and let's chat.
---
Twitter Sources
1. https://twitter.com/swaggsheila1/status/1296599256229466114
2. https://twitter.com/akknowles1/status/1087527831758929921
3. https://twitter.com/paspears88/status/1139725524496859136
4. https://twitter.com/fischmd/status/1134535370568323072
5. https://twitter.com/tmprowell/status/1234193734205571073
6. https://twitter.com/stage4kelly/status/1195354876949225476