In October during Breast Cancer Awareness Month, Sommer Consulting was thrilled to announce that For the Breast of Us has partnered with us to launch a new research initiative to increase representation of women of color in breast cancer clinical trials.
As part of our research, we return to the Twitter-sphere to dive deeper into the discourse surrounding diversity in breast cancer clinical trials to uncover patterns that help us understand what matters most to online members of the community.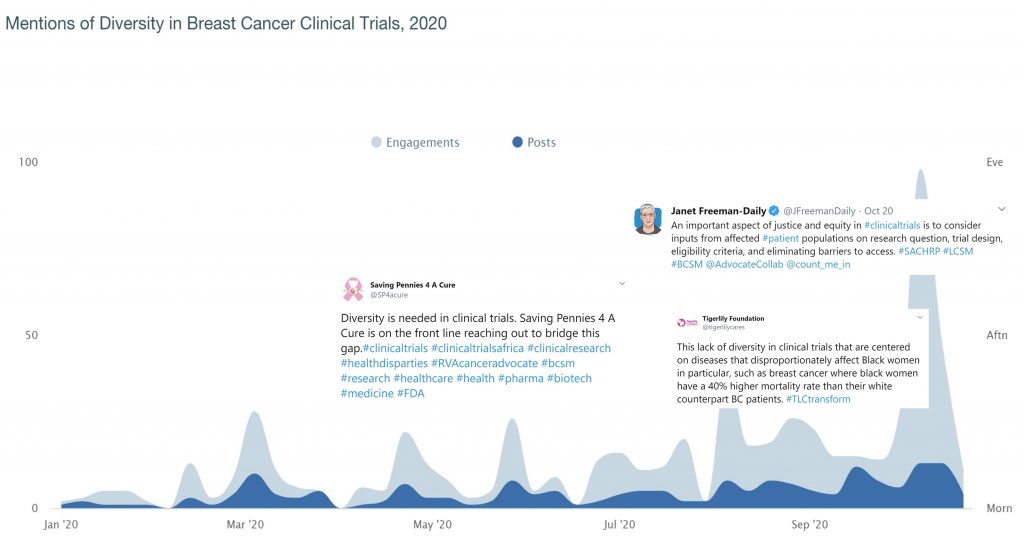 2020 Twitter – how trust impacts diversity in clinical research
Twitter chatter about diversity and breast cancer clinical trials was up in October. Patient advocates, organizations, and physicians were talking more about diversity in clinical trials and low participation rates in breast cancer clinical trials among women of color, as well as what should be done to help reduce these barriers and increase participation.
Among the top barriers mentioned that prevent women of color affected by breast cancer from participating in clinical trials, one in particular stands out– trust.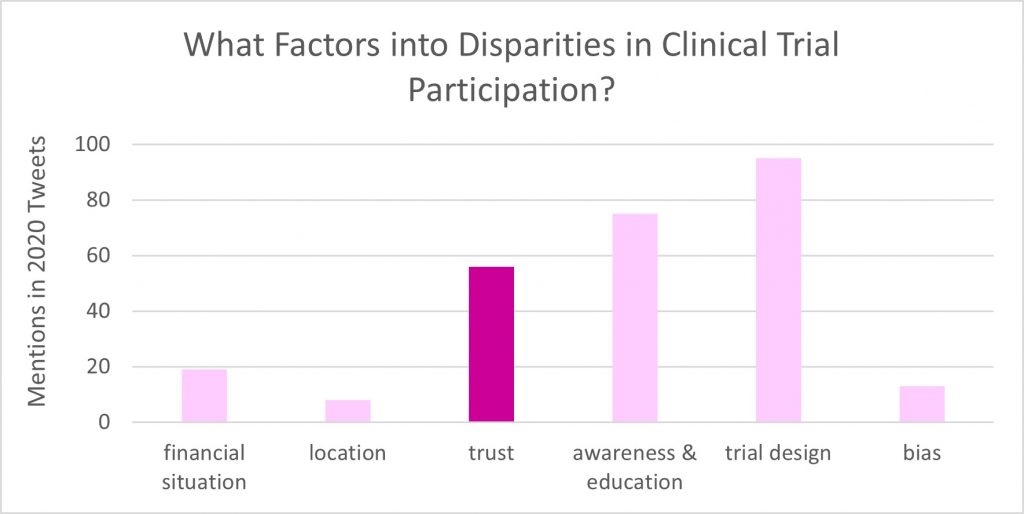 Throughout Breast Cancer Awareness Month, Twitter conversations about breast cancer and clinical trials continued to highlight how a lack of trust towards medicine is still a very relevant issue among communities of color. In fact, issues around trust is the third most-mentioned barrier in breast cancer clinical trial + diversity conversations happening this year, after trial design and awareness & education.
Patients and healthcare providers on Twitter note that trust is often missing from the equation for people of color due to historical abuses of trust and the current reality of systemic racism in healthcare.
This lack of trust between marginalized communities and the clinical research system is viewed by some breast cancer patient advocates as one of the key components in the under-representation of people of color in clinical trials. As @fiestyivy points out, building trust is key and part of that trust-building is actually connected to clinical trial knowledge and education—the other top two key factors in clinical trial participation disparities.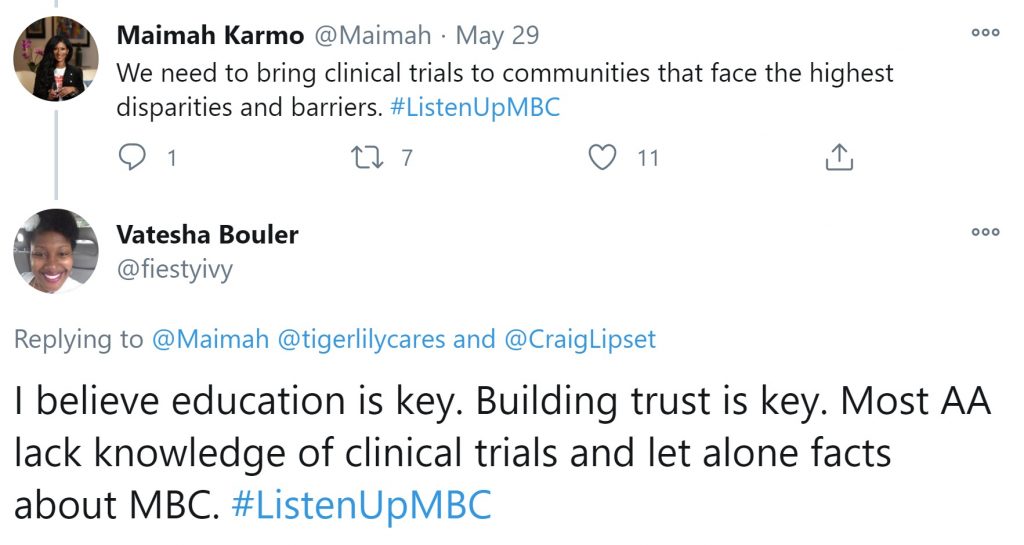 ---
An underlying lack of trust, past and present
From the Tuskegee Study (1932-1972)—in which penicillin was withheld from unsuspecting Black men with syphilis so that researchers could study the uninterrupted progression of the disease—to Henrietta Lacks (1951)—a Black woman in Baltimore, whose cancer cells were taken without her consent and are used in medical research to this day, though her family has had had no say in their continued use or received any compensation—trust among communities of color has been consistently violated.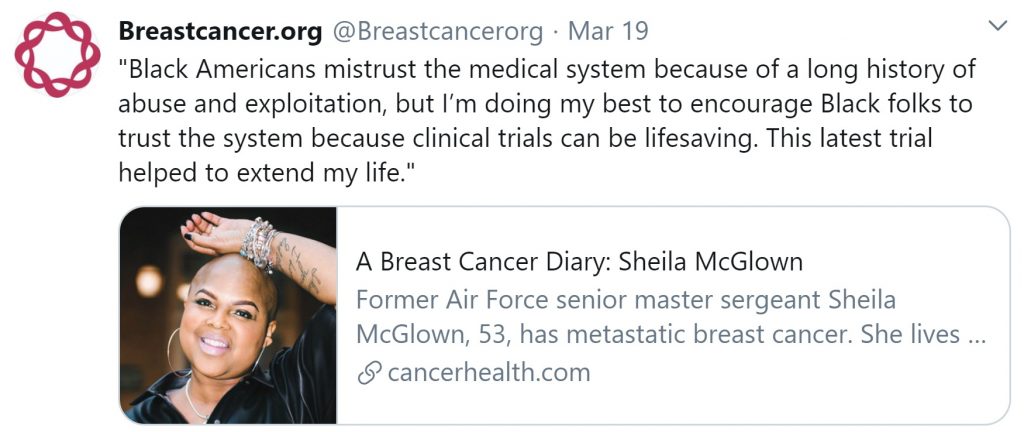 Today, after rigorous standards for patient safety have been put in place, women of color are still not adequately represented in breast cancer clinical trials.
Though Congress passed the Revitalization Act in 1993 to prioritize diversity in federally funded trials, people of color are still under-represented in clinical trials of new drugs, even when the treatment is aimed at types of cancer that disproportionately affect them, as is the case for Black women who are diagnosed with breast cancer. Research shows that:
• The breast cancer death rate is 42% higher in Black women than in white women, despite the likelihood of Black women getting breast cancer actually being lower by 3%
• Between 2010-2015, the rate of getting breast cancer increased among American Indian / Alaska Native women by 8%, while it decreased by 10% in white women
• Hispanic women are less likely (57%) to be diagnosed with breast cancer at a local stage, than white women are (65%) and are more likely to be diagnosed with tumors that are larger and harder to treat3
• < 2% of clinical trials funded by the National Cancer Institute meetdiversity goals
• 4 out of every 5 participants in cancer clinical trials are white
• Of ~55,000 participants in U.S. cancer therapy trials between 2003 and 2016, only 6% were Black, though Black people make up 13% of the U.S. population
• < 5% of patients participating in trials for 24 of the 31 cancer drugs approved since 2015 were Black





      4 out of every 5 participants in cancer clinical trials are white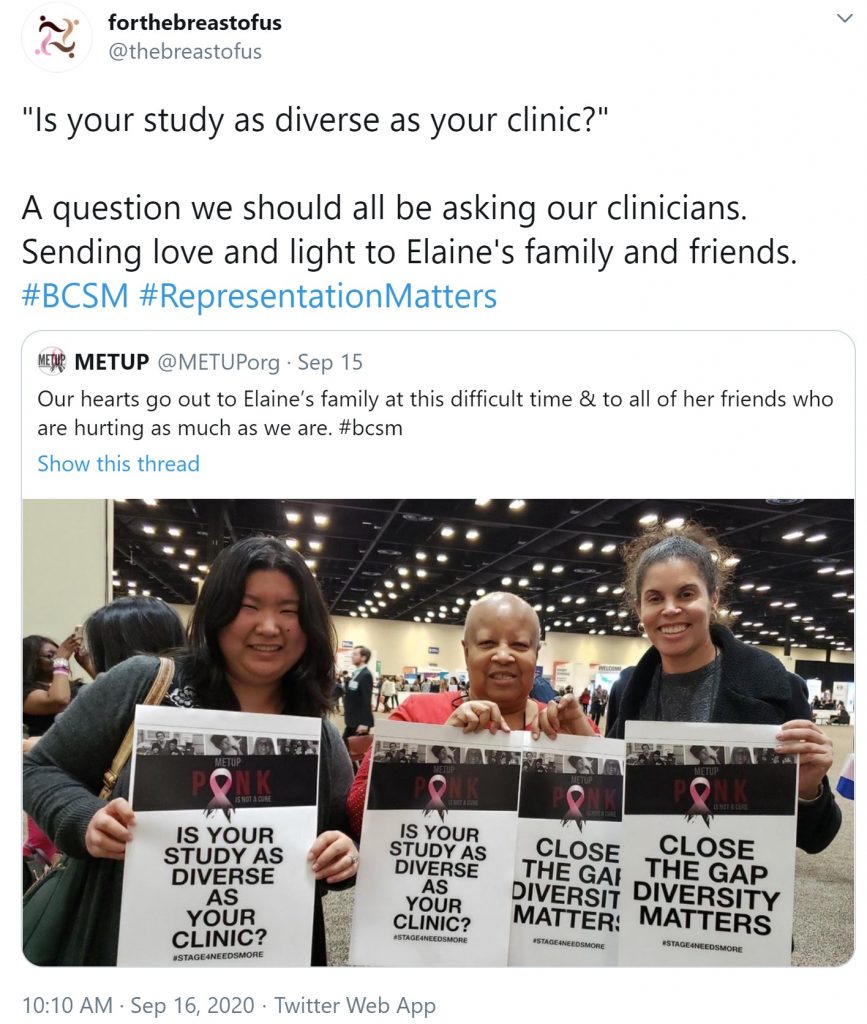 ---
What do patient advocates suggest?
Several patient advocacy organizations such as For the Breast of Us, Tigerlily Foundation, Saving Pennies for a Cure, and Black Women's Health Imperative are already doing the important work of identifying and addressing these issues. Online and offline, these groups are doing the work to increase visibility of the importance of clinical trial diversity in BIWOC breast cancer communities.
For these organizations and patient advocates, a more holistic approach is key—from involving diverse advocacy partners, to working together within their communities to educate and empower their peers through changing the clinical trial narrative.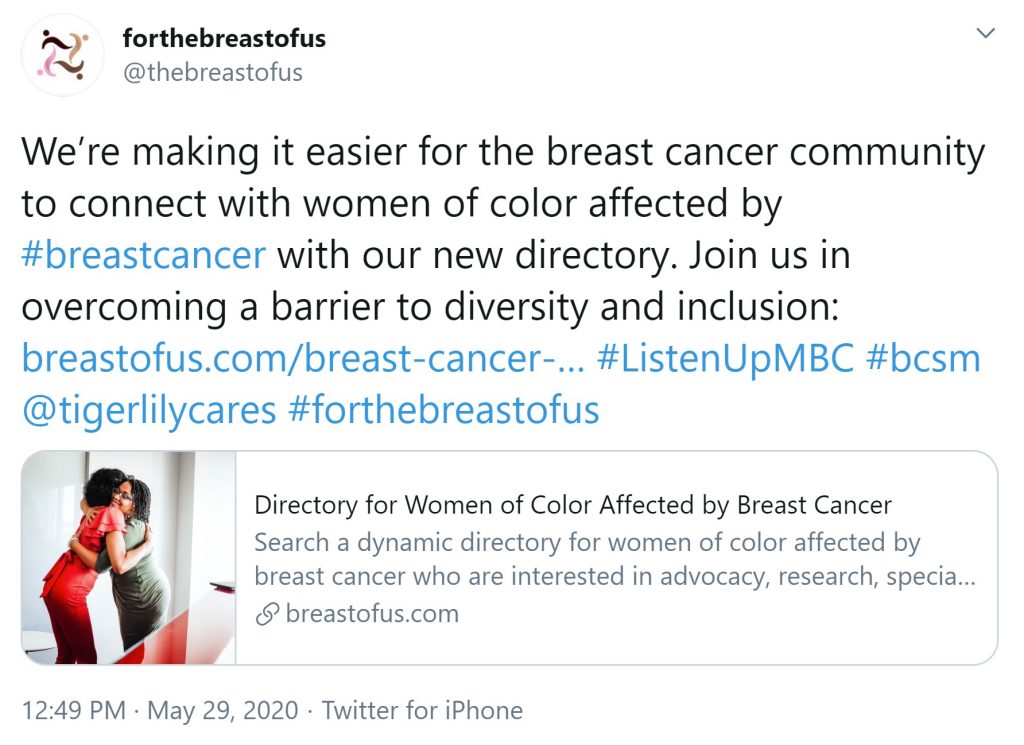 Merely checking the correct boxes to increase diversity and clinical trials is not enough, as these Twitter advocates emphasize. Personal connections are also crucial.

To truly change the narrative around clinical trials, it is vital for all stakeholders in the clinical trial process to build relationships and work together with advocacy partners across communities, as well as empower others to help change the narrative in their own communities. The calls to build trust go beyond the immediate context of clinical trials and extend to a much greater social context that includes patients, their communities, the media, and healthcare professionals.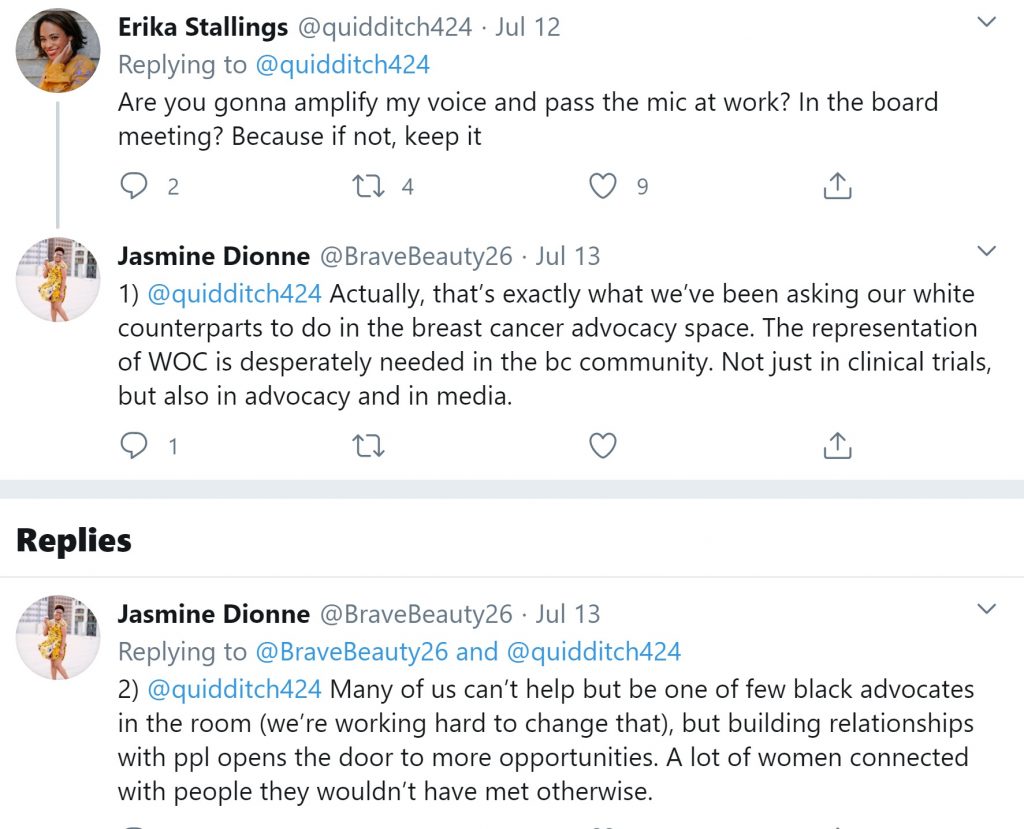 ---
The role of physicians and researchers
Oncologists and other healthcare professionals on Twitter are also discussing their role in building trust in clinical trials.  By taking the time to truly listen to patients and learn about their goals or fears surrounding research studies, physicians and other healthcare professionals highlight how enhancing these relationships can build trust, which helps broaden access to care and reduces health disparities.
As health equity researchers have previously found, the community-researcher relationship is key.
To truly understand and address disparities, it is vital to engage both patient and physician stakeholders, especially those members in the communities that work to promote health, respect, authenticity, and shared decision-making. After all, innovation comes from community engagement, leading to positive changes like the introduction of clinical trial navigators in cancer centers. These relationships can effectively inform policies to "address barriers to clinical trial participation, build trust, and increase enrollment of racial and ethnic minorities."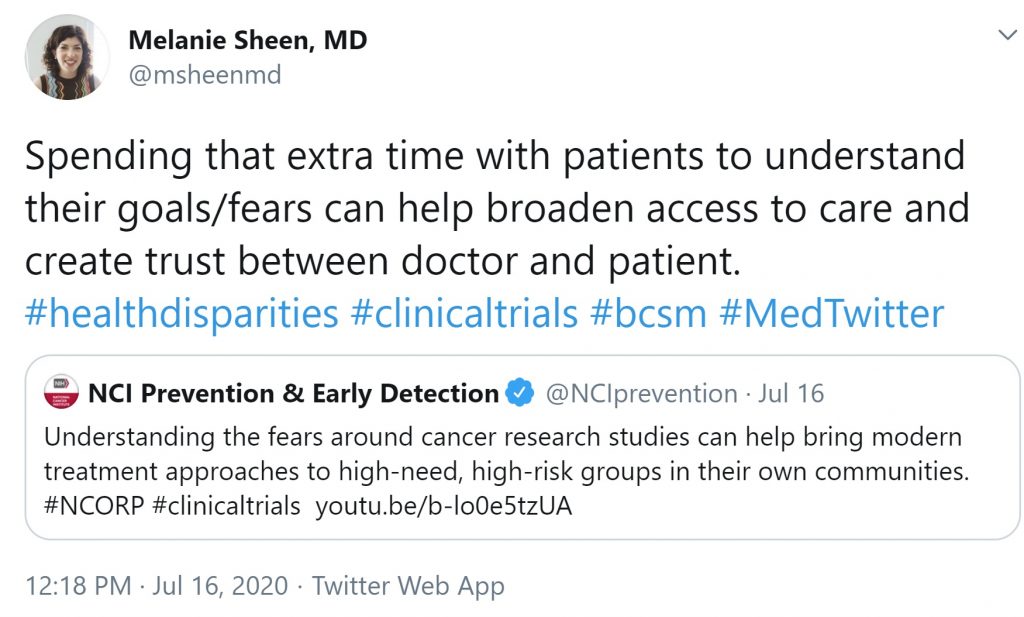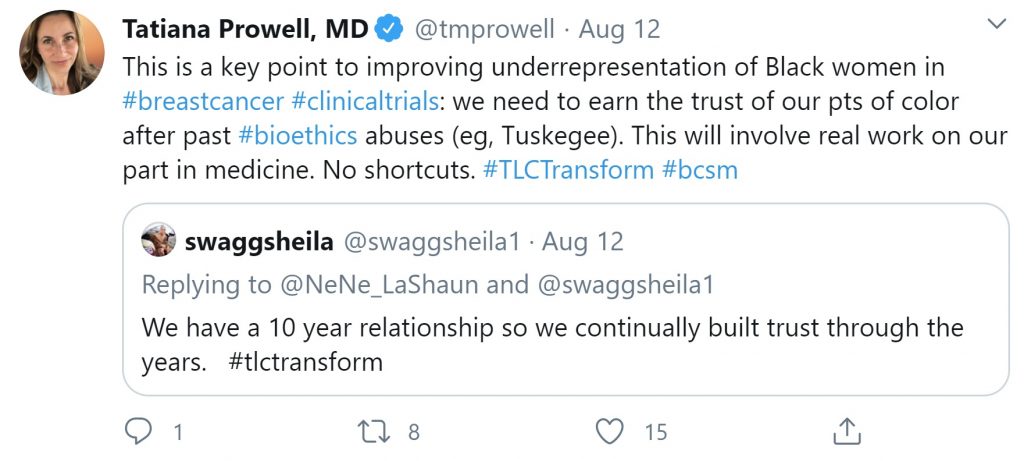 Oncologists on Twitter are acknowledging the role the medical field has had in the breakdown of trust among patient communities of color, and that the medical community has work to do to help rebuild that trust.
As Dr. Tatiana Prowell, a prominent oncologist in breast cancer Twitter conversations notes, physicians and researchers must earn the trust of patients of color by taking "no shortcuts" in the long term community engagement and patient advocacy work they do.
---
Discourse gap—what about pharmaceutical companies?
While patients, advocacy groups, physicians, and researchers on Twitter explicitly outline their role in building trust in breast cancer clinical trials among BIWOC communities, there is another huge player in impacting change – the pharmaceutical industry.
As the sponsors of clinical trials, pharmaceutical companies determine what gets studied and who gets to participate and, therefore, are influential partners for BIWOC women. Though we are seeing more companies talk about health disparities online, we do not see the same Twitter calls to action for greater trust from pharma-connected accounts in the breast cancer clinical trial space in the same way that patients or healthcare professionals are doing.
Pharma is making the move to increase representation of BIWOC women in breast cancer clinical trials, especially in light of new FDA guidance released on November 9. But to build trust across the full healthcare industry, companies may want to consider exploring new communications opportunities. Language and partnerships like this one from Bristol Myers Squibb provide a model for how to do better to bridge the gap in pharma conversations around trust.
Increasing trust-centered language and calls to action on social media can be productive ways for companies to acknowledge their role in improving health disparities and to show their commitment to driving change.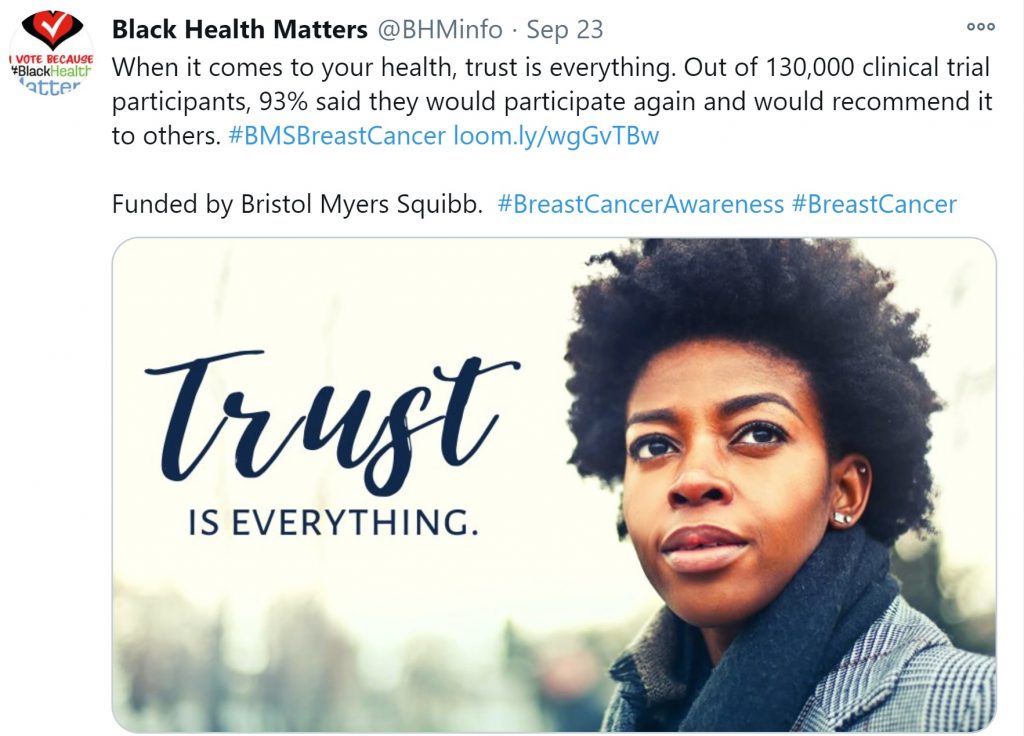 ---
Action Beyond Breast Cancer Awareness Month
From patient advocates to advocacy groups to oncologists, the insights shared online during Breast Cancer Awareness Month are increasing awareness of the factors contributing to disparities in clinical research. These conversations highlight how people can use their platforms – whether Twitter, a hospital room, or board meeting – to partner in rebuilding trust to help change the clinical trial narrative for BIWOC women affected by breast cancer.
Building trust where broken trust is ingrained into the cultural fabric requires purposeful work. Listening and learning from those so long underserved should translate to action toward clinical research practices that reduce barriers to potentially lifesaving care for all.
Our partnership with For the Breast of Us, a company that is doing the work to build trust and highlight breast cancer patient voices, ensures that patient perspectives stay at the forefront of conversations and solutions. It is our privilege to partner and help amplify patient voices and find solutions to the clinical research issues that really matter to BIWOC communities affected by breast cancer.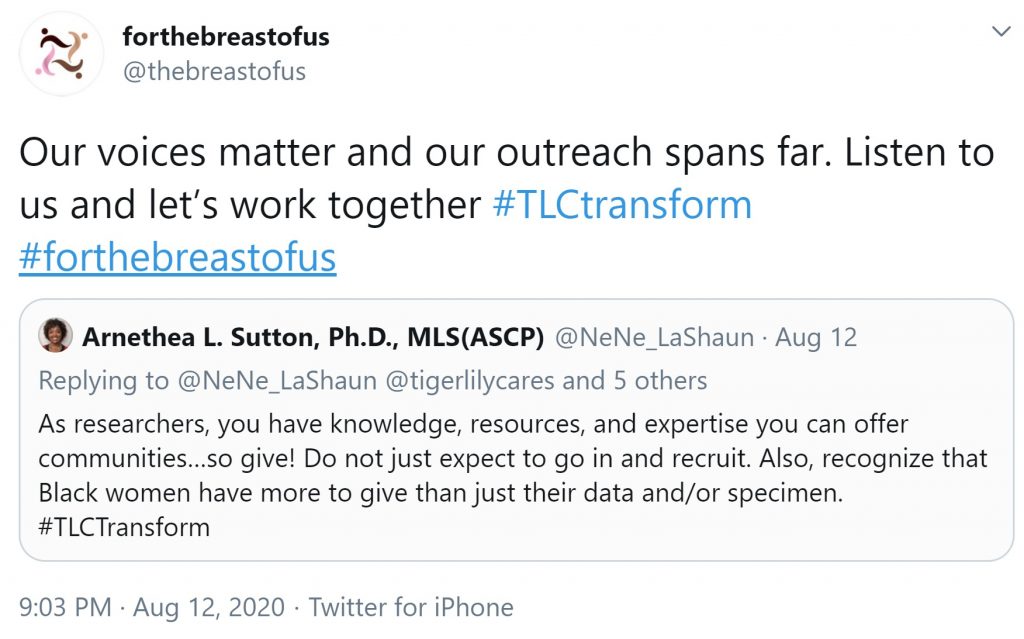 To learn more about our joint research, please visit For The Breast Of Us.
If you are a member of the BIWOC community and you would like to share your thoughts on this topic by participating in paid market research on this or other healthcare topics, please reach out to [email protected].
If you are interested in conducting your own social media analysis on a healthcare topic, please contact [email protected].